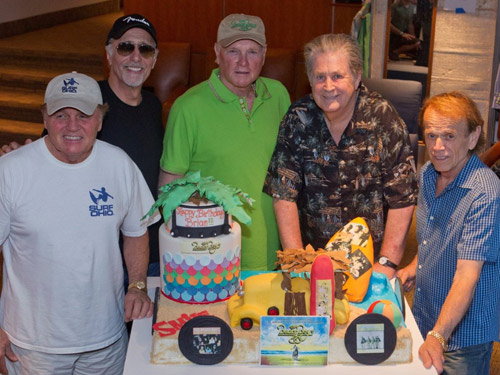 Beach Boy Brian Wilson turned 70 on Wednesday. He is currently travelling across North America as part of The Beach Boys 50th anniversary tour. It has been over 15 years since he last toured with the group back in 1996.
Backstage at their Montreal show last night Wilson told Rolling Stone Magazine "I feel great! I don't think I look or act 70. I feel more like I'm in my mid-forties." Wilson was presented with a Beach Boys themed cake and during the show, the audience sang 'Happy Birthday.'
He also received a special phone call from an old pal, Paul McCartney who had celebrated the big 7-0 himself, just two days before. Wilson told Rolling Stone "[Paul] said, 'Happy birthday, friend!' I said, 'Happy birthday to you, Paul.' He told me he was headed into Abbey Road. I told him we were on our way to Montreal. I think he said something like, 'Can you believe we made it this far?' It was very pleasant and sweet."
Here's to a great 70th birthday and to many more to come!
photo | Pat Beaudry