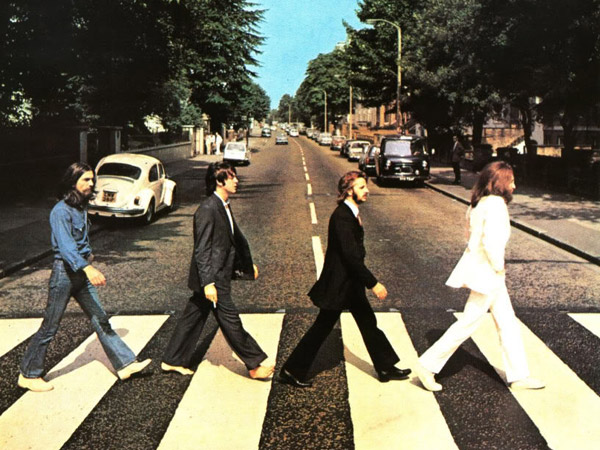 Iain Macmillan snapped the shot on the morning of August 8, 1969. In the ten minutes he was given, Macmillan climbed to the top of a ladder placed in the street and took one of the most memorable and copied photographs in music history.
The cover of Abbey Road came up recently when US Olympic hopefuls payed tribute to it as part of their "Road to London" campaign. Here are a few great recreations of the iconic cover and a few facts to go along with them: 

Photo | Olympic Hopefuls Pay Tribute to "Abbey Road"
1.  The man who is standing on the right side of the street is Paul Cole, an American tourist who had no idea what this "bunch of kooks" were up to until he saw the cover a few months later.
Photo | Simpson's Abbey Road
2. The photo is rife with clues for believers of the Paul McCartney is dead conspiracy. Most notably is his lack of shoes.
Photo | Lego Abbey Road
3. In the late 70s, the crossing was moved down the road.
Photo | Booker T. & the M.G's
4. The plates on the white VW Beetle (LMW 281F) were stolen repeatedly from the car after the record was released. For conspiracy fans, the plate reads: Linda McCartney Weeps [because Paul would be] 28 IF [he was still alive]
Photo | Sesame Road
5. In the picture, the group are walking away from Apple studios, quite a metaphor for the cover of the last studio record they would record together.
Photo | Tabby Road