AM740's resident garden expert, Charlie Dobbin, shares some tasty recipes that can all be created with delicious Ontario grown produce.
DELICIOUS GREEN TOMATO RASPBERRY JAM
3 cups green tomatoes (washed and cored)
2 cups white sugar
2 packages raspberry jello
Boil tomatoes and sugar for 10 minutes on stove.
Add powdered jello, and continue to boil gently for 10 more minutes.
Pour into sterilized jars and seal with wax or freeze. Enjoy!

GREEN TOMATO CHUTNEY (MINCEMEAT)
6 qt basket green tomatoes
8 large cooking apples
1 cup brown sugar
4 cups raisins
1 cup butter
2 tsp salt
1 cup cider vinegar
2 tbsp each cloves, cinnamon and nutmeg
Wash and core tomatoes, mince fine.
Peel and core apples and mince fine.
Throw all the ingredients into large pot and cook gently till the colour of the raisins (dark golden brown). Makes about six quarts and keeps very well.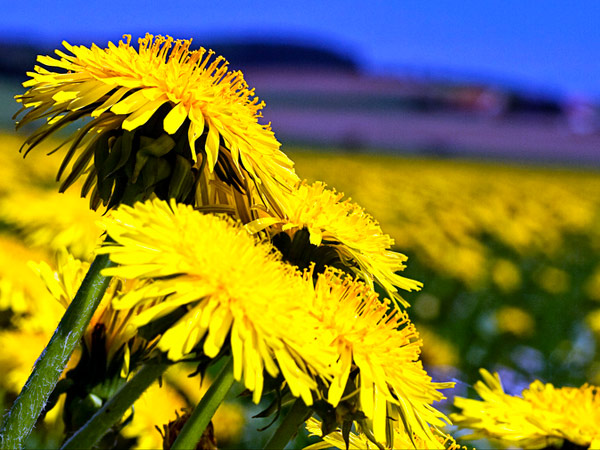 Dandelion Jelly
James Graham sent this recipe for Dandelion Jelly as made by Waterloo Horticultural member Edna Wilhelm of Philipsburg. It has a delicate honey-like taste.
1 qt Dandelion blossoms, picked early in the morning for best flavour
4 cups cold water
1 pkg certo crystals
4 1/2 to 5 1/2 c sugar
1 tsp lemon juice or lemon extract
Pluck stems from blossoms
Rinse the blossoms in a large pot of water
Boil rapidly in same water for 3 1/2 min.
Strain through cheese cloth, pressing out the juice, discard blossoms
3 cups of juice in a large kettle, add the crystals & bring to a rolling boil which can not be stirred down.
Add sugar & cook for 5 min. stirring constantly
Add flavouring during last 1/2 min.
Remove from heat, skim off foam & pour into sterilized jelly jars, seal.
According to James: "One of my great aunts claimed that one should not make jelly on humid or rainy days".
Be sure to listen to The Garden Show with Charlie Dobbin, Saturday mornings at 9am. Or listen to previous episodes of The Garden Show Podcast at your convenience.
images | K. Kendall | celine nadeau |  ugod