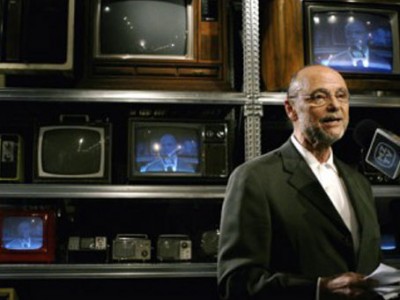 In a special 2 hour recording session on Wednesday, September 11, 2013, visionary Moses Znaimer sat down with host Gene Stevens to discuss the history of TV through a whirlwind of music, television and his memories over the decades.
Gene Stevens recounts your favourite TV theme songs from the 50's to the present, while uncovering Moses Znaimer's memories associated with each song. The insights into the origins of Citytv and its iconic aesthetic are revealed through the founder's eyes.
The 70's was a particularly rich time for Moses Znaimer in regards to the developments at Citytv in the realm of videography, televised diversity and urban aesthetic. But not everyone was a fan of the changes that television has brought and will continue to bring.
Famous scholars talk about television as an entity that can 'ruin' our minds. "The TV business is uglier than most things. It is normally perceived as some kind of cruel and shallow money trench through the heart of the journalism industry, a long plastic hallway where thieves and pimps run free and good men die like dogs, for no good reason." -Hunter S. Thompson, Author/Journalist
But Znaimer feels differently and associates more with this comical quote: "You can't blame TV, it brought us up". -Bart Simpson
Be sure to tune in on Sunday September 15th, 2013 at 2PM/EST to hear the program in its entirety, in the meantime, check out The 10 Commandments of Television that live in the common area at the ZoomerPlex: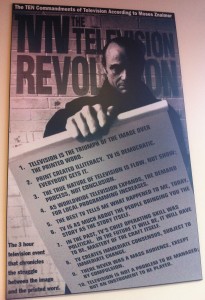 1. Television is the triumph of the image over the printed word
2. Print created illiteracy. Television is democratic, everybody gets it
3. The true nature of television is flow, not show. Process, not conclusion
4. As worldwide television expands, the demand for local programming increases
5. The best TV tells me what happened to me, today
6. TV is as much about the people bringing you the story as the story itself
7. In the past, TV's chief operating skill was political. In the future it will be – it will have to be, mastery of the craft itself
8. TV creates immediate consensus, subject to immediate change
9. There never was a mass audience, except by compulsion
10. Television is not a problem to be managed, but an instrument to be played