City Councillor Stephen Holyday says licensing cyclists is the way to go to help fund Toronto's projects, bring about smarter cycling infrastructure and keep cyclists safe.
He's planning on introducing a motion at council this week asking for city staff to look into licensing cyclists.
"Perhaps by encouraging people to be involved in clubs and organizations, and through a mechanism by distributing these licenses maybe we can have increased use of helmets, better education on road safety…"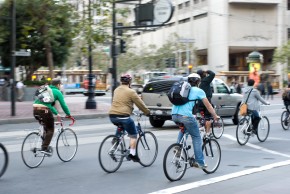 But, Yvonne Bambrick – cycling advocate, and author of the Urban Cycling Survival Guide – says council has already turned down cycling licenses in the past
"While I appreciate Councillor Holyday is looking for ways to improve the scenario on our roadways which is unfortunately, at times, not ideal… and we do need to be doing more. Which is why the road safety plan coming up is so important."
Holyday's proposal comes on the heels of another cyclist injured on city roads.
Just last week, a 71 year old man died riding his bike near Christie and Dupont after he was struck by a car.