A 25-year-old American is the proud owner of an original Picasso.
It cost him about $150.
A charity devoted to saving the ancient city of Tyre had acquired Picasso's Man with Opera Hatand offered it as a prize in a raffle.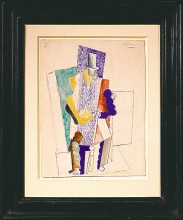 Pennyslvania resident Jeffrey Gonano bought one of the 50,000 tickets because he wanted some art for his wall. His ticket was chosen as the winner.
The painting is valued at a million dollars.
Despite the windfall, Gonano says he will keep the painting.