One of the great conductors of the twentieth Century has died.
Claudio Abbado died in Bologna after a long illness, according to the Bologna mayor's office.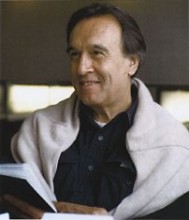 Abbado was born in Milan into a musical family. His father and brother were also musicians. He first burst onto the scene in his hometown, conducting at La Scala in 1960. He went on to be its music director for nearly 20 years.
He was also music director at the Vienna State Opera, the Berlin Philarmonic, and the London Symphony Orchestra. He was chief guest conductor of the Chicago Philharmonic.
Despite being diagnosed with stomach cancer in 2000, Abbado continued to conduct, founding the Lucerne Festival Orchestra in 2003. He was appointed Senator for Life by the Italian government last year.
Claudio Abbado dead at the age of 80.