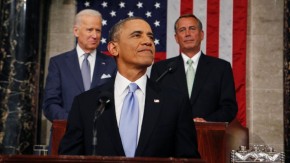 Siding with America's struggling middle class, U.S. President Barack Obama says he will go it alone if necessary in raising the minimum wage for some federal workers.  "In the coming weeks, I will issue an executive order requiring federal contractors to pay their federally funded employees a fair wage of at least $10.10 an hour because if you cook our troops' meals or wash their dishes, you should not have to live in poverty," Obama announced in last night's State of the Union address.
Increasing the minimum wage from the current $7.25 cents an hour was among several announced executive actions seen as a way for Obama to break out of a political rut.  The U.S. President said he prefers to work with Congress, but that his days of deferring to lawmakers  to act on the nation's priorities are over.
In her response, Republican Congresswoman Cathy McMorris claimed Obama's policies are making people's lives harder.