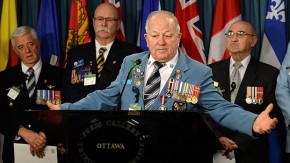 Canada's Veterans Affairs minister was on the defensive last night as he told a group of veterans that eight of the department's regional offices will shut down as planned.  Julian Fantino met with the former soldiers on Parliament Hill and was confronted by veteran Ron Clarke who accused Fantino of not taking care of their interests.  "I was attending meetings to champion some issues on behalf of veterans.  I'm not in a position to disclose those right now," Fantino explained to Clarke, who sarcastically replied, "of course not.  You don't disclose anything.  You were closing down the places and didn't let us know."  Clarke also called for Fantino's resignation or firing.
Earlier in the House of Commons, Prime Minister Stephen Harper noted veterans can get everything they need from the nearly 600 less specialized Service Canada offices coast-to-coast.  And, with a dwindling veterans population, he suggested, the Second World War-era structure had outlived its purpose.
N-D-P Leader Tom Mulcair said that with eight military suicides in two months, there's never been a more important time to maintain those eight centres.