Ontario's Progressive Conservative leader used the backdrop of an Ontario government building on Jarvis Street in Toronto to emphasize what he sees as a need to reduce the province's public service sector.  Tim Hudak made the comments while visiting a condo development at Jarvis and Dundas.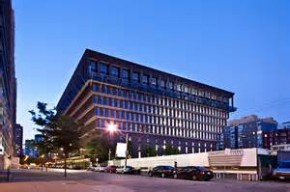 "This building behind me?  It really symbolizes what's gone wrong with Kathleen Wynne, Dalton McGuinty and the Liberal government.  Just look at it.  It's squeezed at the bottom and fat on top, just like the Liberal government."  The building he was pointing out, is 222 Jarvis Street which houses the Ontario Infrastructure and Lands Corporation, a provincial government agency.  Hudak plans to reduce the size of the public service from 1.2 million workers to 1.1 million employees, the level he says where it was in 2009.
Liberal Premier Kathleen Wynne continues to voice her concerns about Hudak's plan.  During a speech at Toronto's Westin Prince this morning, she said the recent increase in minimum wage brought in by her government is a positive step toward improving people's lives, "and with more of us doing better, our economy will do better.  Compare that with what Tim Hudak will do, Tim Hudak says he will also balance the budget one year before we will.  How?  He's going to do that by firing 100,000 people."  Anti-poverty activists say minimum wage increase still leaves full-time minimum wage earners almost 20% below the poverty line.
NDP leader Andrea Horwath had an early morning stop at a Toronto television station where she launched a new app on the Ontario NDP website which helps voters calculate how much they could save under an NDP government.  She also plans to take part in a roundtable discussion this evening, organized by the National Ethnic Press & Media Council.