With less than 24 until the polls open in Ontario tomorrow, the Liberals and Conservatives are accusing each other of dirty tricks.
Dozens of voters in two hotly-contested ridings in London and Ottawa received letters from the Conservatives directing them to the wrong polling stations in tomorrow's election.
London North Centre Liberal candidate Deb Matthews is furious. She accuses the provincial Tories of using the same robocall tactics as some of their federal counterparts in the last election.
But Conservative leader Tim Hudak says it was an honest mistake. He says letters were sent out to supporters around the province, and some of the information was wrong. He adds that the letters were sent out on party letterhead, so the party wasn't trying to be underhanded. He adds that the party has contacted affected voters to correct the error.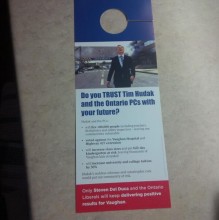 Hudak is making accusations of his own. He's demanding the Liberals apologize for a flyer showing a picture of him laughing, walking away from a burning hospital.
The flyer was circulated by Liberal incumbent Stephen Del Duca in his Vaughan riding. It asks, "Do you TRUST Tim Hudak and the Ontario PCs with your future."
Del Duca took to Twitter to apologize. He tweeted, "The flyer was a mistake for which I am sorry."