A painting of a familiar sight to many Toronto commuters is expected to sell for upwards of $17-million in Britain.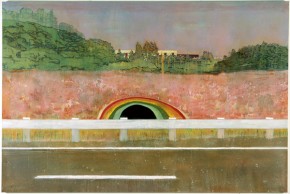 Scottish artist Peter Doig created Country-Rock [wing mirror] in the late Nineties. It's a painting of the rainbow that decorates an underpass that's visible from the Don Valley Parkway just below Lawrence.
The rainbow itself was created by Norwegian artist B.C. Johnson in 1972. He was 16 years old at the time, broke his leg during its creation, and was arrested several times while touching it up. The rainbow has been restored several times, most recently by city staff two years ago.
Country Rock is considered one of Peter Doig's most important works. It will go under the gavel at Sotheby's in London on June 30th.