Former U.S. Secretary of State Hillary Rodham Clinton is making an appearance in Toronto today.  She's scheduled to be at the Indigo Bay & Bloor at 2:00 PM to sign copies of her new book, Hard Choices.  The memoir is an inside account of the crises, decisions and challenges Clinton faced during her four years as Secretary of State and how those experiences inform her view of the future.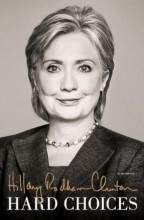 Clinton has insisted she hasn't decided on a second bid for the U.S. presidency but over the course of her book tour so far she has made it clear she is giving it serious consideration.
Clinton has said she finds the prospect of running compelling simply because it offers the chance to help Americans find economic opportunities that elude them.
The former U.S. first lady has also already confronted the issue of her husband's infamous affair with former White House intern Monica Lewinsky, saying she's long since moved on.