Plans are underway in Memphis and Toronto to celebrate the 60th anniversary of Elvis Presley's first rock and roll recording.
On July 5th, 1954, 19-year-old Elvis Presley continued with a recording session at Sun Studio in Memphis where he and his band mates decided to record a version of That's All Right as a lark.
On July 8th 1954, the song was played repeatedly on WHBQ radio, and the career of the man known as the King of Rock and Roll was born.
Sun Studio will hold an event on July 5th that will include a cake-cutting and an exhibit tied to the recording's anniversary.  On the same day, musicians will play Elvis songs at a concert at the nearby site of his first professional performance.  Visitors to Graceland, Presley's longtime home, can see an exhibit showcasing Presley's impact on music and popular culture.
And at Toronto's Ed Mirvish Theatre Return to Grace opens on July 8th.  It stars Steve Michaels as Elvis.  He told the New AM 740's Happy Gang, "we start out in 1954, then move right through to the 60's, the black leather, the Vegas, and concert years, but everything that he does and all of his music, there's also fantastic songs throughout, you can't get tired, you can't get tired of his music."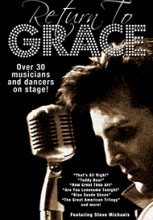 Return to Grace is written and directed by Rob Asselstine and choreographed by Jeff Dimitriou.  There's more information by clicking here