So what's the secret to a happy marriage?  A new British study suggests "sleeping naked" leads to more happiness in a relationship.
Of the 1004 people surveyed, 57 percent of those who sleep in the nude said they were happy in their marriages, compared with 48 percent of those in pyjamas, and 43 percent of nightie wearers and 38 percent of those who wear onesies.
The findings of the poll for Cotton USA will be good news for many, since four in ten people now sleep naked and almost half – 45 percent – of over 55s do so.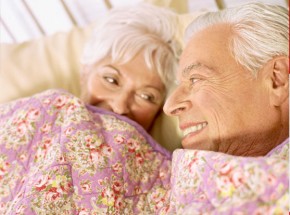 Company spokesman Stephanie Thiers-Ratcliffe says "bedding can feel extremely soft against the skin, encouraging openness and intimacy between couples and ultimately increasing happiness."
The research also reveals half of us are bothered when people eat in bed, 59 percent don't like dirty laundry on the floor and 23 percent hate it when their partner wears socks in bed.