A youth group in Bristol, England has sold a Banksy artwork to a private collector – to raise money for the cash-strapped club.
The sale will bring in about $668,000 – and secure the future of the club.
Banksy's "Mobile Lovers," shows a couple embracing while checking their mobile phones – and shows their faces illuminated by the glow of the display.
The work first appeared on a doorway near the club, "Broad Plain."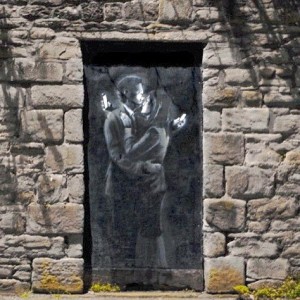 Club owner Dennis Stinchcombe had moved the work inside and invited the public to view it. The work was later put on display at the Bristol City Museum and Art Gallery while its ownership was established.
Stinchcombe thanked Banksy at a news conference at the museum – announcing the sale.