Canadian rock legend Neil Young and his wife of 36 years have decided to divorce.  Pegi Young has been a frequent musical collaborator with the rock icon over the years. She was the inspiration for some of Young's love songs, including Such a Woman, Unknown Legend and Once an Angel. Pegi Young has released three solo albums since 2007 and she's toured extensively on her own, occasionally with Neil on guitar.
The Rolling Stone magazine website says that a petition for dissolution of marriage was filed by Neil Young in San Mateo, California on July 29th.  The magazine says a hearing is scheduled for December 12th.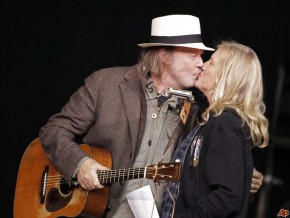 The Youngs are not alone.  Zoomers make up the fastest growing segment of couples deciding to end their marriages.  Lawyer Lorne Fine told The New AM 740's Goldhawk Fights Back, the rate of divorce among those 50-plus has more than doubled since 1980.  "It's a big impact as far as older women are concerned," Fine explained, "as far as their dependency, as far as their ability to retrain.  Spousal support's a big factor.  Obviously children are no longer a factor with custody, access and support issues."  Fine adds a "huge" number of people 65 and older are getting divorced and this can be very difficult financially for both people.