Warner Music has announced a new prize for promising classical musicians.
Sixteen artists are in the running for the $100,000 Warner Music Prize. It will be given out annually to an instrumentalist or vocalist between the ages of 18 and 35 who shows strong career potential.
All of the nominees are drawn from the current season at Carnegie Hall. The venue is a partner in the award.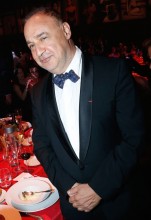 The new prize is funded by billionaire industrialist and philanthropist Len Blavatnik, who took over Warner Music three years ago. Blavatnik is one of richest people in the world. He says, "acknowledging and helping young musicians is essential if we are to see classical music thrive for generations to come."
The first Warner Music Prizewinner will be chosen by an advisory group of musicians and industry professionals next Spring.