Beginning January 1, 2015, TTC riders will be able to use credit and debit to buy 10 or more ticket s and tokens as well as day and weekly passes.
Commuters can already use plastic to buy monthly passes.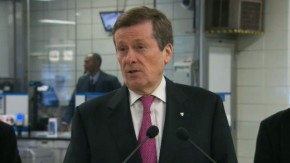 In announcing the move at Victoria Park Station, Mayor John Tory calls it a long-awaited step forward.
"In a global city like Toronto, the idea that most transactions would have to take place with cash is something that is almost prehistoric.  We need to make riding the rocket and using the transit system more convenient and easier for people."
The TTC will not allow credit and debit payments for individual fares.
CEO Andy Byford says the lineups would be too big, making such a move counterproductive.
The TTC is will explore a "wave and pay" system for individual fares next summer.
Ultimately, the hope is to phase out tokens, tickets and passes once Presto's available at all subways and on buses and streetcars.