The US government isn't pointing the finger of blame over the cyber-attack on Sony Pictures.
At least not yet.
But officials say the attack was carried out by somebody "sophisticated" who had "malicious intent." And sources say it most likely originated in North Korea. The reclusive country is known to have a secret agency called Bureau-121. It's made up of 18-hundred so-called "cyber-warriors" recruited as children to stage internet attacks on the west.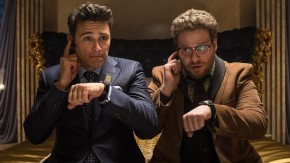 The attack and terror threats prompted Sony Pictures to scrap plans to show the controversial comedy The Interview. The Seth Rogen comedy tells the story of a hapless plot to assassinate North Korean leader Kim Jong Un.
The White House says it doesn't want to get ahead of investigations by the FBI and the Justice Department by blaming North Korea. But spokesman Josh Earnest says the Obama administration stands behind the right of movie companies to produce films of their choice.
Sony has been widely criticized for not standing up to the hackers. George Clooney says he has been in contact with Sony Pictures co-chair Amy Pascal and has recommended she make The Interview available online immediately, "not because everybody has to see this movie, but because I'm not going to be told we can't see this movie."
Sony is facing lawsuits from former employees over the loss of sensitive data. It has been embarrassed by the release of emails insulting major stars. And its decision not to release The Interview will cost it about 50 million dollars.