New Zealand the Australia were among the first to say "Happy New Year."
More than 1.5-million lined the shores of Sydney Harbour to watch a fireworks display.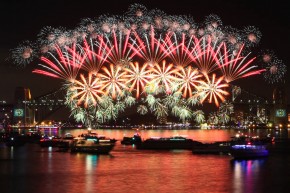 Vladimir Putin has a New Year's message for Barack Obama.
The Kremlin's published several dozen messages to heads of state and international groups.
The Russian president tells his American counterpart the upcoming 70th anniversary of the allied victory in the Second World War should serve as a reminder for the two countries of their responsibility "for maintaining peace and international stability."
Meanwhile, about one million are expected in New York's Times Square for the annual ball drop, with millions more tuning in around the world.
In Toronto, the biggest celebration will be held at Nathan Phillips Square starting at 8pm.
Mayor John Tory will lead the countdown to midnight.