Imagine going back in time to 1795.  Visitors to the Museum of Fine Arts in Boston will be able to experience that era.
The contents of a time capsule believed to have been placed by Samuel Adams and other Revolutionary War figures will be displayed for the first time there tonight.
The original capsule was made of cowhide and believed to have been embedded in a cornerstone when construction on the state capitol building began in 1795. Adams was governor at the time.
The contents were shifted to a copper box in 1855 which was unearthed last month at the Statehouse.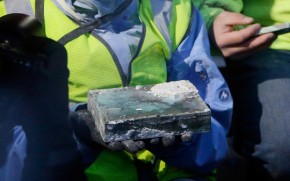 Curatorial experts say records and X-rays indicate the box contains old coins, documents, newspapers and a metal plate owned by American revolutionary Paul Revere.