To mark what would have been Elvis Presley's 80th birthday, fans of the King gathered at Graceland.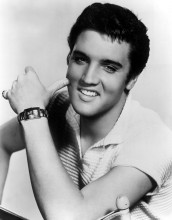 They joined Priscilla Presley, who was married to him, and their daughter, Lisa Marie, for a cake-cutting ceremony outside Elvis' longtime Memphis home.
They also sang "Happy Birthday."
An auction of Elvis Presley-related memorabilia is scheduled for this evening.
Legacy Recordings plans a yearlong celebration of his music.
First, "The Complete '60s Albums Collection Vol. 1" is available on iTunes.
It includes all the LPs Presley recorded between 1960 and 1965.

The Legacy label also also promises something this summer that "features Elvis like he has never been heard before."
More releases are planned throughout the year.
Presley died August 1997 at age 42.