Scott Walker has finished his last day as the morning news anchor at The New Classical FM.  The veteran broadcaster, actor and singer-songwriter has decided to take on a new challenge as the executive director of the Canadian Senior Artists' Resource Network (CSARN).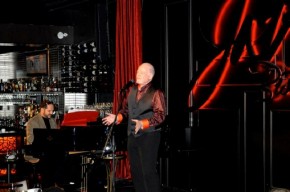 (Scott Walker during a recent performance of his acclaimed show "What is the Great American Songbook?")
"CSARN is an organization set up to help zoomer artists in their senior years," Scott told Mike Duncan and Jean Stilwell on The New Classical FM's Good Day GTA.
"The challenges faced by senior artists, are not dissimilar to those faced by all seniors, especially financial challenges," Scott explained, "Let's face it, a lot of artists live close to the poverty line and have no pension plan when they're working, so when they get into their senior years, it can be difficult."
"What CSARN has been set up to do is to offer advice counseling, and support for artists in financial, health, lifestyle and employment opportunities,"Scott went on to say, "We have a mentorship program that offers senior artists a chance to pass on what they know."
For more information on CSARN click here and listen to Scott Walker's entire interview with Mike and Jean here: