Jean-Louis Cremieux-Brilhac, a Jewish member of the French Resistance in charge of propaganda during World War II, has died at his Paris home.
No word on the cause.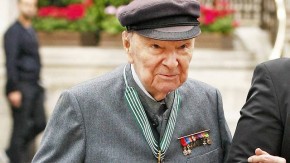 The 98-year old Cremieux-Brilhac lived history as a soldier and director of Free France wartime radio reports from England.
He later wrote and spoke about history, helping create France's state-run publishing house, La Documentation Francaise, and recounting his wartime experiences.
He was born Jean-Louis Cremieux in a Paris suburb, into a Jewish family that had lived in southeastern France for centuries.
His code name "Brilhac" was added after he became a resistance fighter, joining with a movement of anti-fascist intellectuals in France in the 1930s.
President Francois Hollande said in a statement, Cremieux-Brilhac was a "hero" of the French fight against Nazism.