The founder of one of the world's most famous circuses is selling his majority stake.
Guy Laliberte is ending a 30-year chapter of his life with the famed Cirque du Soleil – one of Canada's biggest success stories in the business and entertainment world.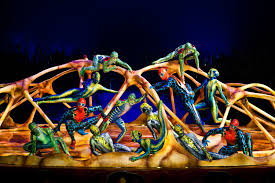 Laliberte will keep a 10 per cent stake in the Montreal-based company and continue to provide strategic and creative input.
The 55-year old circus founder says he wants to set other creative challenges for himself.
He has five children – between the ages of seven and 18 – and says having them take over the Cirque was never really an option.
"They have their dreams and as a father I have made the commitment to support them as they chase them." he said.
Montreal will remain the Cirque's international creative and management headquarters.
Equity firm TPG has acquired the majority stake for an undisclosed price, while Chinese investment firm Fosun and Quebec pension fund manager the Caisse de depot will hold minority stakes.
The deal is said to be worth between $1.5 billion and $2 billion.
At a Montreal news conference Laliberte dismissed any suggestions the Cirque is in financial difficulty – saying it is a profitable venture that sells 11 million tickets a year.
TPG says its experience building brands like J. Crew and Neiman Marcus – as well as its strong media and entertainment relationships – will provide Cirque with new opportunities for increased revenue.
The new owners plan to expand Cirque's presence in China – and grow third-party licensing deals, digital media and ticket sales.
Cirque du Soliel began 1984 – and since then it has played to almost 160 million spectators in more than 330 cities in some 48 countries around the world.