The governor of the Bank of Canada says he did not mean to raise eyebrows of investors earlier in the year with his cut in its key interest rate, housing forecast and his choice of adjectives to describe the country's economic performance.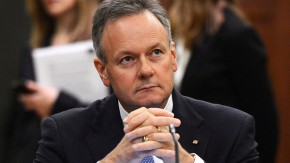 Testifying before a parliamentary committee, Stephen Poloz was asked about using the word 'atrocious' to describe his expectations of the effect slumping oil prices would have on the economy the first three months of 2015.
Committee members also questioned him about the central bank's assessment that Canada's real estate prices could be overvalued by up as much as 30%, even though the bank has stressed the country's not facing a housing bubble.
Poloz insists the Bank of Canada did not intend to frighten anyone in these cases.
Gazing into his crystal ball, he's projecting zero growth for the first quarter but expects better days ahead.
Poloz is even predicting future numbers will show the economy accelerating as early as the spring.