Some of the Canadians, who were in Nepal last weekend when the massive earthquake hit, have left on a Canadians military plane.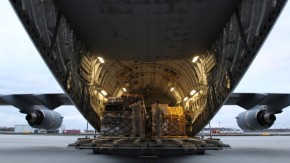 The plane is capable of holding 100 passengers but it's not known though how many flew to India.
The C-17 transport had arrived in Kathmandu earlier today, carrying humanitarian aid and members of the Disaster Assistance Response Team (DART) to help with the crisis that the UN estimates is affecting 8.1 million.
A second C-17 has left Canada with more equipment and personnel and is expected in Nepal tomorrow, and will be able to take more Canadians to India.
Foreign Affairs has said 338 Canadians were registered as being in Nepal but that's only a guess as registration is voluntary.