A crude on-camera confrontation between Toronto soccer fans and a local television reporter has cost a Sunshine List employee his job.
The incident took place at Sunday's Toronto FC game when Shauna Hunt was trying to do a report.
Fans started jumping into frame and mimicked the crude profanity-laced phrase, "F*** her right in the p****",  seen in similar situations across North America.
Hunt had had enough of it.  See her exchange with the rude group of fans here.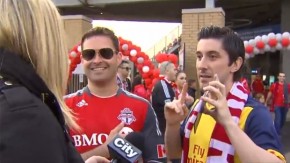 (photo credit: CityNews)
The guy who was defending his behaviour (pictured above with the scarf around his neck) has been identified by a Hydro One spokesperson as Shawn Simoes, an assistant network management engineer who made more than $106,000 last year.  He has been fired, while Maple Leafs Sports and Entertainment is taking steps to have the fans involved banned for at least a year.
But should Simoes have lost his job?  Dale Goldhawk will delve into that part of the story after 11am news on The New AM 740's Goldhawk Fights Back.