When you think of food-loving people, images of the overweight might come to mind.  But findings of a new study have revealed that "foodies" and adventurous eaters are more likely to have a lower body mass index and might be healthier as compared to less adventurous eaters.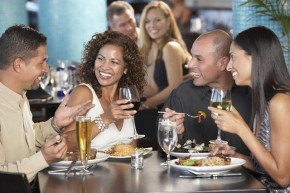 Researchers at Cornell University studied the food habits, weight satisfaction and lifestyle characteristics of some 500 women from across the U.S.
The study participants were asked if they had tried 16 foods not typically from an American diet, including beef tongue, seitan, polenta, Kimchi, and bean sprouts.
The results showed that the foodies in the group rated themselves as healthier eaters, more physically active and more concerned with the healthfulness of their food when compared with non-adventurous eaters.
The study co-author says these findings are important to dieters because they show that promoting adventurous eating may provide a way for people to lose or maintain weight without feeling restricted by a strict diet.