Senator Pamela Wallin has quietly returned to work after her two year suspension over disputed travel claims.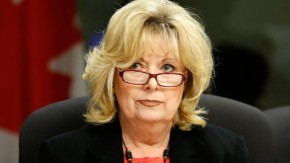 The 62 year old wrote in a short emailed statement yesterday, "I am pleased to be able to continue my work as a senator on behalf of the people of Saskatchewan and others who reach out to their representatives."
She said right now she's "reviewing the activities, the debates and the legislation discussed by the Senate during my absence."
The former television news anchor and game show host was suspended from the Senate along with Senator Mike Duffy and Senator Patrick Brazeau in November of 2013 for disputed expenses. Wallin is back to receiving her salary of $142,400 a year and can make use of office resources.
The RCMP began investigating Wallin two years ago, alleging in court documents she had committed fraud and breach of trust by having the Senate reimburse her for travel associated with personal and private business associated with her roles on corporate boards and as chancellor of the University of Guelph. None of these allegation has been proven in court and Wallin has not been charged, but CTV News report Monday night the RCMP had handed its file on Wallin over to the Crown for review.
Wallin repaid $154,191 in expense claims, including interest, and has blamed them on administrative errors.