He enjoyed an esteemed international career as a soloist, conductor and teacher. Violinist Jacques Israelievitch died yesterday in Toronto at the age of 67.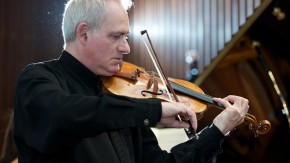 Israelievitch had the distinction of being the longest serving concertmaster of the Toronto Symphony Orchestra. After retiring in 2008 after 20 years, he joined the faculty of York University's School of the Arts, Media, Performance and Design, as professor of violin and viola.
He was diagnosed with aggressive, metastic lung cancer just this past February. And on August 14th, he was presented with the Order of Canada at a special ceremony at his home.
He is survived by his beloved wife Gabrielle: sons David, Michael, and Joshua and two grandchildren.  All were said to be by his side in his final weeks.  His mother and remaining sister and brother live in Paris.
A funeral service for Jacques Israelievitch will be held at Benjamin's Park Memorial Chapel, tentatively scheduled for tomorrow (Labour Day Mon Sept 7th) at 1pm. A memorial will be announced later.