She was famous for popularizing the phrase "Sock it to Me". Judy Carne of the U.S. comedy television show Laugh-In has died, reportedly of pneumonia, in a British hospital at the age of 76.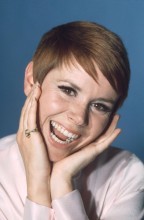 She shot to fame with the rise of Rowan and Martin's Laugh-In which often featured her doused in water, taking pratfalls or suffering other comedic humiliations.
Judy Carne left the show in its third season and her acting career faltered as she became heavily involved with drugs.  Between 1977 and 1978, Carne was arrested three times on charges that included drug possession and auto theft.
In 1985, Carne wrote an autobiography detailing her short marriage to Burt Reynolds, her bisexuality, and her drug addiction called Laughing on the Outside, Crying on the Inside: The Bittersweet Saga of the Sock-It-To-Me-Girl.