The Green Party platform is the first to be released during this federal election campaign.
It calls for sustainable jobs plan, improved health care, support for seniors, a climate strategy and repealing the controversial anti-terror bill; all without running a deficit.
Green Party Leader Elizabeth May unveiled the platform yesterday during a news conference in Vancouver. May is seeking re-election in Saanich-Gulf Islands, as the only Green Party incumbent.
She says her party is talking about the issues that have been absent from the campaign so far, including how to protect and expand Canada's universal healthcare system.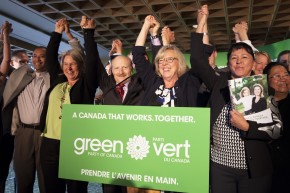 "We already announced that we would bring in pharmacare to reduce the cost of prescription drugs, and ensure that no Canadian goes without medicine they need.  Today we announce the first step to extend dental care to the Canadian health care system," May said to applause.
Elizabeth May admits bringing in dental coverage for low-income Canadians under the age of 18 will be "very expensive," but she says the party has costed it out.
The Greens are polling at about six percent, well back of the three major parties. May told a packed room of supporters and media, her team has developed a platform that speaks to the needs of the 21st century.
Elizabeth May is the only one of the four leaders in Toronto today.