John Lennon would've turned 75 this October 9th. His widow, Yoko Ono, is hoping to set a new world record by creating the world's largest peace sign to mark the occasion.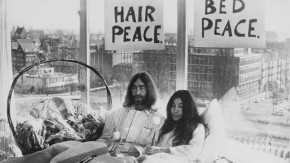 Rolling Stone reports Yoko Ono is hoping to get between 6,000 and 10,000 people in New York's Central Park three days ahead of his birthday, on October 6th, to make a human peace sign before an aerial photograph is taken at 12:30 p.m. If enough people attend, the tribute will break the Guinness World Record of 5,814 people.
Ono announced the event outside New York's city hall on Thursday, where a group of city officials and children held a Lennon sing-along. In the month leading up to Lennon's birthday, the John Lennon Educational Tour Bus, a nonprofit mobile audio and video recording facility, will be stationed at different locations across New York City for educational programs.
John Lennon was assassinated December 8, 1980.