NDP Leader Tom Mulcair is rolling out a $40-million strategy to deal with the growing number of Canadians afflicted with Alzheimer's disease and dementia.  The dementia money would be spent on research, as well as screening, early diagnosis and treatment to slow the advance of the devastating conditions.  Funding would also help families access care for family members living with Alzheimer's and dementia.  It was Mulcair's third announcement on health care and care for seniors in two days, totalling over $2.3 billion.  Mulcair is expected to release a full costing of the NDP's platform tomorrow.
Liberal Leader Justin Trudeau is also focusing on issues important to older Canadians.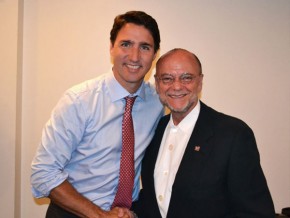 "Any team that has both Moses Znaimer and Susan Eng on it, is a team to be reckoned with," said Trudeau as he spoke to a gathering of CARP members yesterday at the ZoomerPlex in Liberty Village, where he announced his plans to enhance retirement security for older Canadians, including a promise to expand the Canada Pension Plan.
"This is something that experts and provincial leaders have been calling on for years. But Stephen Harper has outright rejected every attempt to strengthen the CPP," Trudeau detailed.
CARP President and ZoomerMedia founder Moses Znaimer says all of the parties are recognizing the importance of older voters.
"But in fact, we record 63 percent of all the votes, so it means every senior has double the impact because of the relative weight of our community and it's devotion to the mandate. Our gang comes out," says Moses.
Meantime, the Green Party's Elizabeth May discussed her party's platform on Zoomer Radio's Goldhawk Fights Back.  She says the Green's pharmacare plan will save the economy $11-billion a year.
"The upfront cost to set up the system, we've put $300-million into our budget. Of course the drugs we're buying will be purchased by the provinces. The provinces will be achieving real savings, and those who can't afford a prescription will have that included within pharmacare. The overall program is really going to save the Canadian economy," May explained.
May says that every other country with a universal healthcare system includes prescription drugs and no other country pays as much for the same drugs as we do here in Canada.