Toronto will not pursue a bid for the 2024 Summer Olympics.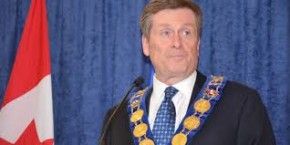 Today is the deadline for Mayor John Tory to submit at expression of interest.  He told a news conference this morning that the city won't pursue a formal bid which could most millions of dollars and would have required the approval of city council.
After this summer's Pan Am and Parapan Am games, there was strong support for the Olympic bid, but that momentum has dwindled in recent week with the City of Mississauga actually voting against supporting a bid and a number of Toronto Councillors criticizing the idea.
Tory met with Ontario Premier Kathleen Wynne about the idea as well as business, union and youth leaders and found support lukewarm at best.
Toronto unsuccessfully bid for the 1996 and 2008 Summer Olympics and Tory said he didn't want to lead a third failed attempt.  Los Angeles, Paris, Rome, Budapest and Hamburg are the cities planning to bid for the 2024games.