Toronto Mayor John Tory may not be able to keep a campaign promise on garbage collection.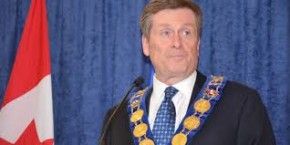 During last year's mayoralty race, Tory pledged to contract out garbage collection east of Yonge Street.  However, a new report by city staff suggests the move won't have the same impact as the switch to a private contractor for pickup west of Yonge.  That move has seen an $11 million saving for taxpayers.
Tory says he wants to study the numbers and make sure taxpayers are getting the best bang for their buck.
The staff suggestions go to the public works committee next week.