The three main party leaders set out their economic plans in last night's Globe and Mail election debate and attacked each other over one of the most important issues facing Canadians.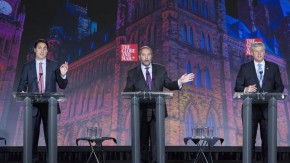 Conservative Leader, Prime Minister Stephen Harper, appeared comfortable to stand back and leave his rivals to hammer at one another, and defended his record in a year that has seen the economy shrink in the first half.
"The other parties are trying to tell us, they will deal with the challenges of our economy, of our labour market, of the international markets, by raising taxes and running deficits to finance vastly increased amounts of spending. That is not the way to protect our economy in this environment," Harper said while looking into the camera.
The key rivalry in the debate was between Liberal Leader Justin Trudeau and NDP Leader Tom Mulcair trying to look different in their approach to the economy.
"We know that the only way to bring in something as quality affordable childcare across Canada, is to build it on a solid foundation, and for us that means balanced budgets. It doesn't mean there will be times when you have to spend. In 2008, we were in the worst recession since the 1930s. Of course, everyone agreed that we had to spend at that time, but that's not the case now," explained Mulcair.
Mulcair displayed more passion and fewer smiles than the debate of six weeks ago and labelled the Liberal leader as "reckless." But Trudeau insisted that investments need to be made in areas such as infrastructure which means three years of modest deficits.
"When we talk about that investment, we're very clear. We're going to run three modest deficits, in order to pay for it. Now, those are the kinds of investments that Mr. Harper hasn't made for ten years, and if you think this economy's doing great, than Mr. Harper is your guy." Trudeau implored.
The three leaders remain locked in a statistical dead heat for voter support, according to overnight tracking by Nanos Research. Each has about 30 percent of decided voter support.