Today is the first so-called "Wynne Wednesday" to be staged by the province's public elementary teachers. It's a protest against Premier Kathleen Wynne's Liberals who have yet to negotiate a contract with representatives of the Elementary teachers Federation of Ontario.
ETFO teachers are planning today, and on following Wednesdays, to wear a "solidarity colour" to school as well as union buttons, shirts or caps.
Public elementary teachers ramped up their work to rule campaign on Monday, which includes Wynne Wednesdays when they are forbidden by their union from running extracurricular activities. Teachers will no longer update class websites or blogs, or class newsletters. They won't prepare progress reports or add report card comments and will refuse to meet with parents to discuss reports, unless there are special concerns.
ETFO president Sam Hammond says rotating strikes will begin in October if there's no agreement for teachers who've been without a contract for over a year.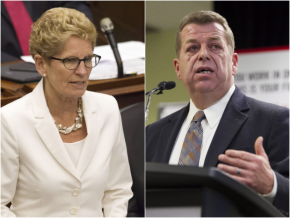 Premier Wynne said earlier this week, she's not taking Wynne Wednesdays personally. She said she's not happy about increased disruption in the public elementary schools after her government has come to agreements with all of the other teacher groups.