The Hall of Fame catcher, known as much for his way with the language as his record 10 World Series championships with the New York Yankees, has died at the age of 90.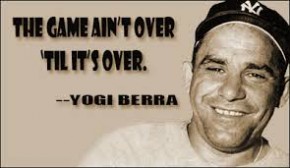 Yogi Berra passed away from natural causes last night at his home in New Jersey.
Berra played in more World Series games than any other major league player and was a three-time American League MVP.
Despite that, later in life, Berra was better know for sayings like, "It gets late out their early" in reference to the shadows in Yankee Stadium's outfield;  "90% of baseball is half mental"; "No body goes there any more it's too crowded" and perhaps his best quote "All those things I said, I never said them"