Pope Francis will soon spread his message of hope, faith and unity in an album titled 'Wake Up!' this November.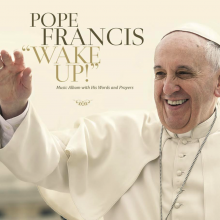 The Vatican-approved LP features the 78-year old Pontiff delivering sacred hymns and excerpts of his most moving speeches in multiple languages accompanied with uplifting music, ranging from pop-rock to Gregorian chant.
The pope speaks in Italian, English, Spanish and Portuguese over 11 tracks, addressing issues such as peace, dignity, environmental concerns and helping the least fortunate.
'Wake Up!' arrives November 27.
 1  "Annuntio Vobis Gadium Mangum"
 4  "Poe Que' Sufren Los Ninos"
 5  "Non Lasciatevi Rubare La Speranza!"
 6  "La Iglesia No Puede Ser Una Ong!"
 7  "Wake Up! Go! Go! Forward!"
 8  "La Fa Es Entera, No Se Licua!"
11 "Fazei O Que Ele Vos Disser"