Four debates down and one to go before the Federal Election on Monday October 19th.
The top three political leaders sparred over foreign policy at last night's Munk Debate at Toronto's Roy Thomson Hall.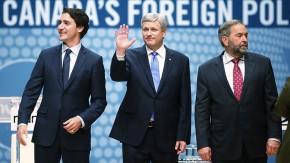 Conservative Leader Prime Minister Stephen Harper, Liberal Leader Justin Trudeau and NDP Leader Tom Mulcair argued about Trans-Pacific trade talks, security, immigration and refugee measures, terrorism and climate change.
Harper was forced to defend his government's record on combating climate change, and that not enough is being done.
"Guess what, you talk about the United States, emissions from their coal-fired electricity sector are bigger than emissions from the entire Canadian economy. We're leading the world on this sector," Harper stated.
The leaders also seemed to save their best lines for this debate. Trudeau spoke about residents of Canada's north in getting a jab in against Harper.
"The one thing they keep saying about you Mr. Harper is 'you're big sled, no dogs'. The challenge that we need to have is to understand that to have sovereignty over the Arctic, we have to support the communities, the people who live there, who've lived there for millennia, and that's not what you're doing enough of," Trudeau quipped.
And Trudeau was the butt of a joke by Tom Mulcair, who chided the Liberal leader for trying to take a tough stance against the President of Russia.
"But it's interesting to hear Mr. Trudeau say what he's going to do with Mr. Putin. Mr. Trudeau, you can't even stand up to Mr. Harper on C-51. How are you going to stand up to Putin?" Mulcair said to laughter.
The latest overnight tracking poll by Nanos Research gives the Conservatives a slight lead at 32.6 percent voter support, followed by the Liberals at 31.4 percent and the NDP at 27 percent.
In Ontario, the Liberals lead with 38 percent support to the Conservatives' 36 percent and the NDP at 21 percent.
The major party leaders return to the campaign trail today.
Harper stays in the Toronto area to deliver a pair of speeches. Trudeau campaigns in Winnipeg this morning, and then Richmond, B-C.
Mulcair visits Nunavut, while Green party Leader Elizabeth May will be in British Columbia to outline her party's national dementia strategy.
Pollster Darrell Bricker will weigh in on last night's debate along with your calls on Zoomer Radio's Goldhawk Fights Back after the 11am news.