It's either elegant and exciting or super ugly and a disappointment.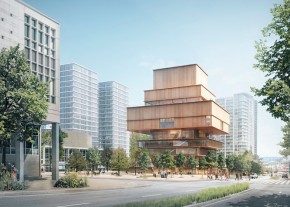 Plans for the new 28,000 square metre Vancouver Art Gallery have been unveiled with the artist behind the design suggesting they've pulled off an artistic achievement because the proposed new building will be made of wood.
The plans call for a stack of enormous wooden boxes rising 70 metres above Vancouver's downtown core.
Artist Jeff Wall says the notion of bringing back the wooden construction that made the city is an artistic achievement because as he asks, when the last time a wooden building was constructed in Vancouver?
Social media commentators called the design everything from elegant and exciting to super ugly and disappointing.
Construction is expected to begin in late 2017.  However, fund raising has only come up with about 20% of the $350-million dollars needed to complete the project.