Frank, Sammy and Dean are together again.
A street near the Las Vegas Strip has been renamed after Sammy Davis Jr.
The dedication ceremony yesterday was held at the three-way intersection where Sammy Davis Jr Drive, Frank Sinatra Drive and Dean Martin Drive meet.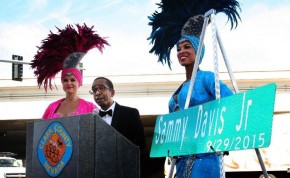 Davis family members including his son, Manny, joined local politicians and entertainers for the event.
Sammy Davis Jr. died in 1990, Dene Martin in 1995 and Frank Sinatra in 1998. Frank Sinatra Drive was finished in 2004, and Dean Martin Drive was named in 2005.