The move is intended to protect the city of Hamilton from lawsuits but it will also make tobogganing on certain hills in that city much safer.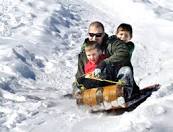 The city is recommending bales of hay around trees and stumps and snow fencing to let tobboganers know when they're getting close to open water..
The city has also called for signs on hills to advise people of the risks associated with tobogganing and other measures that can be taken to remain safe.