She welcomed the U.S. troops home from World War II singing, "Kiss me once, then kiss me twice, then kiss me once again" and many other Top 10 hits including "In the Chapel in the Moonlight" and "Little Things mean a Lot." Kitty Kallen died yesterday at her home in Cuernavaca, Mexico at the age of 94.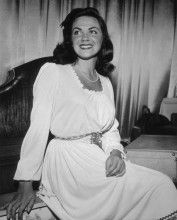 Kallen began singing as a child on a radio show called "The Children's Hour". She soon had her own radio show in her native Philadelphia and by age 15 was singing with big bands and supporting her family.
Kallen sang with many of her era's top bandleaders; Artie Shaw, Harry James, Jimmy Dorsey among them.  Her last hit was "My Coloring Book" in 1962.
Her first marriage to clarinetist Clint Garvin was annulled. In 1948, she married press agent Budd Granoff who soon gave up many of his prestigious clients, which included the likes of Frank Sinatra, Dean Martin and Doris Day, to manage Kallen's career full time.
The couple had one son, Jonathan Granoff, who is president of the Global Security Institute. She is also survived by her companion, Sonny Shiell, and three grandsons.