Sylvester Stallone has made up for failing to thank his director and co-star when he won best supporting actor at the Golden Globes last weekend.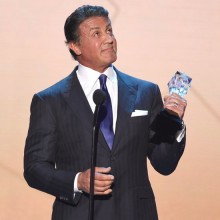 He won the same award last night at the Critics' Choice Awards (pictured above) for his performance as an older Rocky Balboa in the film Creed.
As he accepted it, Stallone joked that, "before I into any more trouble I want to say thank you to director Ryan Coogler. He really is a genius, I mean it. He made it all happen. As you all know as actors, they create the environment and they just set the mood and you just hopefully can do what you do is special, and he made it all special."
Stallone, who turns 70 this year, added praise for the movie's star, saying Michael B. Jordan is "a great, great talent."
It's been forty years since Sly Stallone first played the character of Rocky Balboa in the original Rocky movie.