A heartbroken Celine Dion has decided not to sing at her husband's funeral.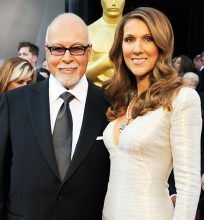 A representative for the star has denied reports that Celine would perform a musical tribute to Rene Angelil, but said one or two of her songs might be played during the service.
Rene Angelil died on January 14th at the age of 72 after a fighting throat cancer since 2013.
His funeral will be held this Friday at the Notre-Dame Basilica in Montreal where he and Celine were marred in 1994.
Angelil's obituary reads: "According to his final wishes, his funeral will be held at Notre-Dame Basilica in Montreal, where 21 years ago he chose to marry the one who will remain as the great love of his life, the artist for which he had the most respect, the woman who gave him light and happiness until his very last breath."
Rene Angelil was a highly respected figure in Quebec. His funeral will be televised on three networks.