Canadians who are 45-plus are increasingly turning to Zoomer Magazine as their publication of choice.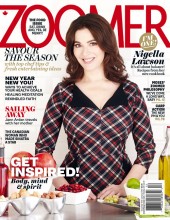 The latest numbers reveal a new milestone with a powerful reach of 1.5 million readers across all platforms.
The new readership results confirm that Zoomer Magazine serves the generation that dominates the marketplace; an audience that has control of more than 70 percent of the wealth and more than 50 percent of all consumer spending.
Zoomer Magazine is now 7 years old and is published nine times a year. It's available on newsstands nationally, by subscription and on multiple digital platforms.
Zoomer Magazine is owned by ZoomerMedia which also owns Zoomer Radio and The New Classical FM.